Digital collage in website design has increased in popularity over recent years. A collage (From the French: coller, to glue) is a work made from an assemblage of different forms, thus creating a new whole. Website designers looking escape the one dimensional web page have employed various techniques over the years. For example, only a few years ago using various gradients was almost mandatory in creating a professional looking web page.
The use of collage and creating a layering effect on websites has long been favoured by Flash designers. Creating depth and interest in modern website design employs the use of numerous elements, often with the drop shadows or transparent layers interacting and multiplying. Images with texture also add to overall appeal and move away from a flat page. Grunge textures are popular and are used with varying degrees of subtly. Hand-drawn elements are another key player and add further visual appeal to some sites.
Scanned in aged paper/cardboard (or digitally created), ripped paper/cardboard, paper tags often complete with string, drawing pins (thumb tacks), polaroid photo treatments, fabric sometimes complete with the appearance of being stitched on, ribbon and sticky tape are common elements.
Below are 10 non-Flash websites employing various collage effects.
The Ernest Hemingway Collection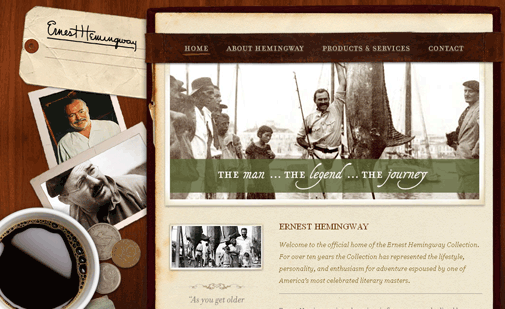 Useful Links
Texture Vault
stock xchng (free stock photos and huge texture section)
Love Textures
Lost and Taken
Webtreats etc
Tags: collage, Collage Website Design Inspirations, inspiring designs, textured websites